Paths and walks
Hiking around Limone Piemonte
---
From simple walking to trekking adventurous trails, between the mountains, nature and history.

The paths around Limone develop along the grassy slopes with gradients sweet and always different views. Suitable for all types of hiker - from families with children to the trekker more 'adventurous - are taken care of, well marked and you ride safely from spring to late autumn.

Each walk can be further enhanced by the evocative story of a nature guide, to turn the day outdoors in an opportunity to learn about the landscape, its many forms, its inhabitants and the hundreds of plants and flowers that color the nature around Limone Piemonte.

For an excursion in complete safety, in tobacconists and newsstands Limone you can find many publications.
If you need a hiking guide to accompany you and let you know our territory in more detail, you find it here

VIEW THE TRAILS MAP:
Below are some of the main routes:
Monte Vecchio Ring Download the gpx file
Capanna Chiara Ring Download the gpx file
Mountain trails
Via Romana
The "Via Romana", which leads from Limone to Limonetto, is the perfect location for those who want to make a simple walk, with minimum altitude along the cool waters of the river Vermenagna and shade of the beautiful tree-lined street.
Lou Viasol
The ring of "Lou Viasol" offers a wonderful opportunity to appreciate the pure and pristine environment surrounding Lemon starting directly from the old town or from villages.
The signage is yellow-green with notches and the constant cleaning of the ski it ensures easy hiking and safe for all.
The Forts
Along the divide between Italy and France meet, sometimes hidden by vegetation, imposing military buildings dating back to the early twentieth century, which still dominate much of the height of the valleys Roya and Vermenagna.
vestiges of a past war outdated, they fit perfectly into surrounding landscape: now exercise great charm, thanks to loopholes, moats and high walls strictly in stone, with the typical forms of military nineteenth century, austere and fascinating at the same time.
Last echoes of centuries of struggle for control of the important road linking the southern Piedmont and France, are today an important landmark and a great attraction for hiking.

Recommended links:
Valle Vermenagna trails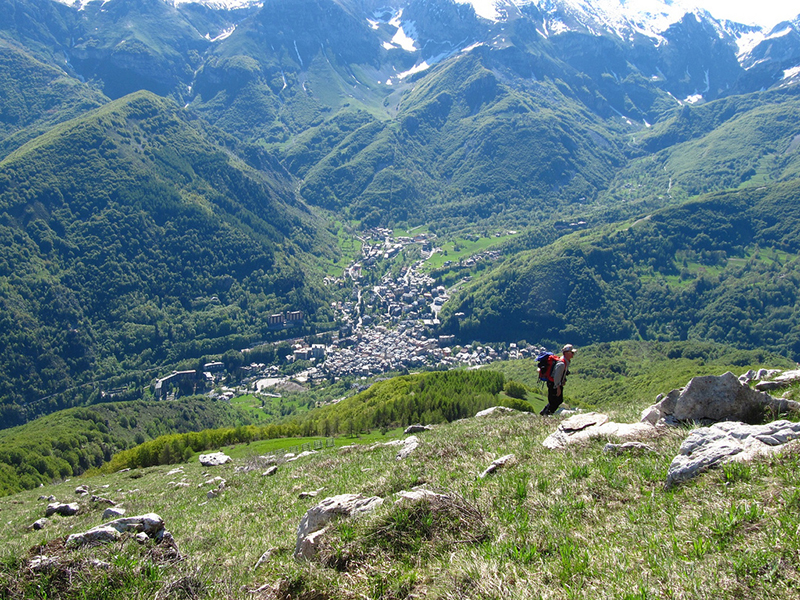 Guides of the excursions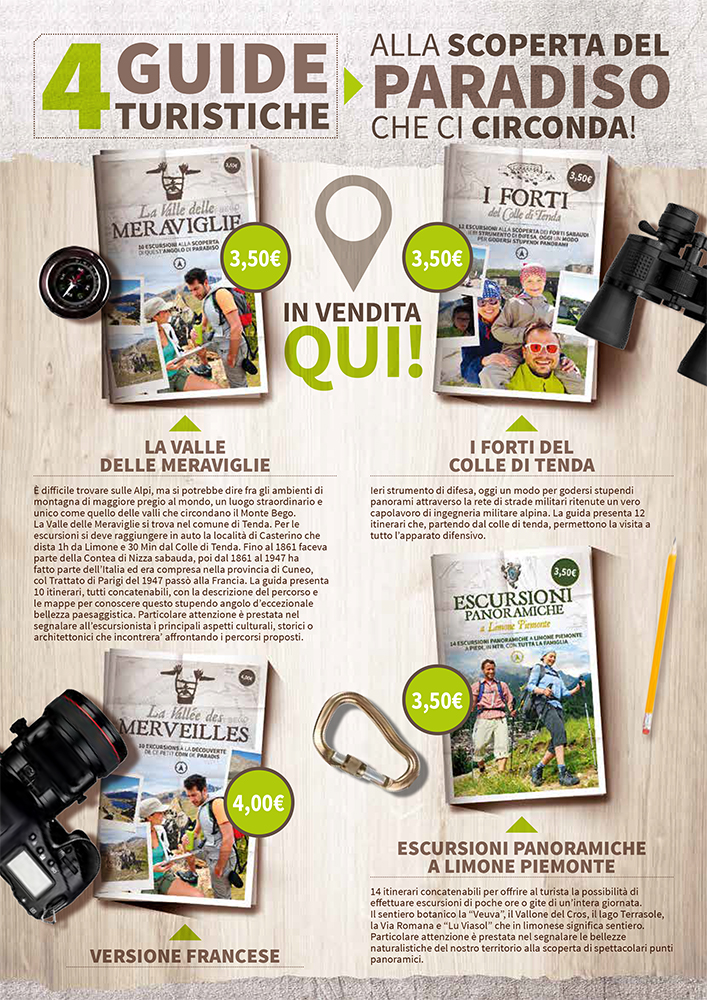 Discover our 3 tourist guide
La Valle delle Meraviglie (also in french)
I Forti del Colle di Tenda
Escursioni Panoramiche a Limone Piemonte
Inside you will find all the information to discover at best all the wonders and beautyof our land.
You can fine the guide in all the shops that expose this flyer.