Valley of Wonders
At the turn of the past and the present
---
Besides being a particularly impressive place, the valley Wonderland brings to light valuable fragments of our past.
The Valley of Wonders, an archaeological site of world importance, dotted with glacial lakes and on whose rocky slabs are preserved more than 40,000 prehistoric rock carvings in the open, is a real pagan sanctuary of the Bronze Age. The site is located within the territory of the Parco of Mercantour.
The carvings were discovered in the late 1800s, and are found on rocky outcrops or boulders scattered on the ground
They are divided into two types:
V-grooves - corresponding to entries or schematic drawings of recent times;
wide incisions or concave - by removing material in large areas with a flat bottom, made ​​with chisels or similar tools, attributable to the Bronze Age.
The subjects in this group include figures with horns, anthropomorphic representations of weapons such as spears, daggers, axes and geometric shapes like spirals, fences, etc. The interpretation is not always easy, but usually the images relate to reality linked to the religious sphere.
The site, designed for over thirty years by the team of Henry de Lumley, today welcomes students of the industry from all over the world under the supervision of specialized archaeologists. Recent research has begun to produce results as regards to the understanding of cults and society of the ancient Mediterranean populations of the Bronze Age.
What to see in the park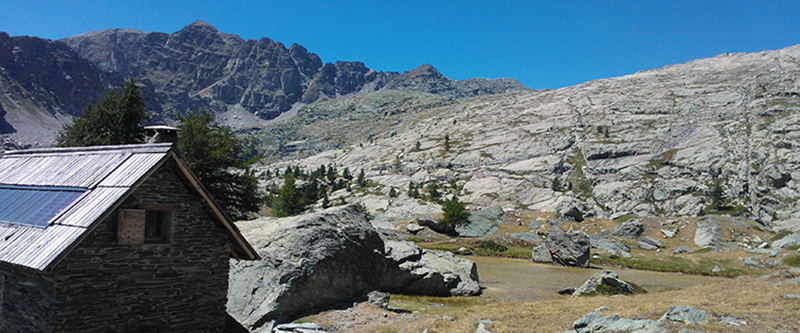 Tenda
The first town you come to when crossing the border, still retains vestiges of the ancient Castle of the Counts Lascaris, narrow streets with vaulted arches and precious portals.
Do not miss the Museum of Wonders, where are exposed photographs, graffiti and finds from the Valley of Wonders.
Touristic office:
+33 4 9304 73 71
www.tendemerveilles.com
La Brigue
In addition to the quaint old town, do not miss the visit of the Sistine Chapel of the Maritime Alps, the small church of Notre Dame de Fontaines, frescoed by Canavesio Baleison and from the late fifteenth century.
Touristic office:
+33 4 9379 0934
www.labrigue.fr
Saorge
Perched on a cliff, initially citadel Ligure and then a Roman colony, was considered impregnable in the Middle Ages. Noteworthy the Church of Saint Saveur and the Franciscan monastery.
Touristic office:
+33 4 9304 5123
www.saorge.fr
Breil sur Roya
Nice small town with the typical royasca, nestled around a small lake, offers the opportunity to practice many extreme sports and aquatic.
Touristic office:
+33 4 9304 9976
www.breil-sur-roya.fr